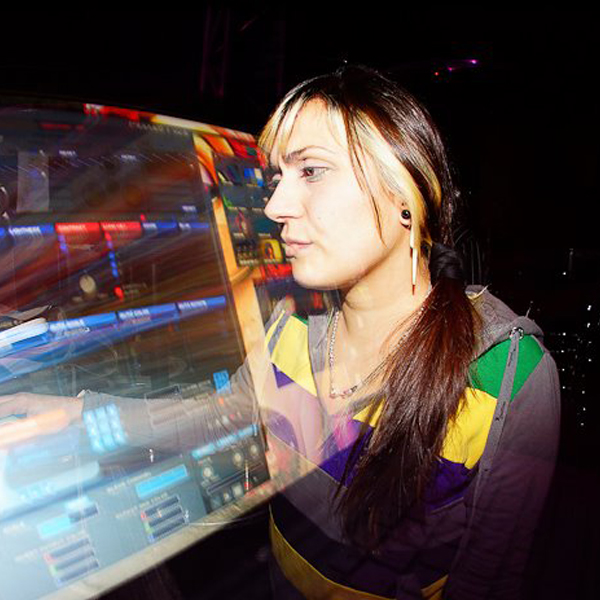 VJ Biò discovered her passion for video in 1998.
Born and raised in Naples (Italy), based in Montpellier (France), she began to develop her skills in visual arts especially in underground and mainstream raves.
She performs digital visual arts, video installations and video mapping. Over the years, she started to play at numerous venues around Europe, in the historical clubs and Festivals known for their good taste in Electro music, clubs that have hosted famous DJs from the techno scene, especially in Italy, Spain and France.
In 2007, she worked in Rome with "Bugdate" VJ's collective, Together they took part in the international meeting event of VJ'S, "LPM" famous for the stunning video installations.
Over the years she has participated in various festivals formed by large female collectives from the underground scene: "Witches Are Back" in Rome: they create groundbreaking performance and art projects, leaving strong political messages related to intersectional transfeminist activism, like "Femme Scandale" in France, "Femme Brutal" in Spain , "Femme Carnala" in Mexico.
Performing several times in Portugal, she took part to "Frequency": a big festival, full of colors and art performances.
In 2022 she participated in the "Foire Extraordinaire" in France, animating the mapping scene through an underwater three-dimensional journey, same year she had the great honor of animating a Masterclass at "Fastlane" school in Montpellier (France), presenting the project: "How to synchronize Modul8 with Ableton Live (softwares) and generate a rhythm animation", teaching different notions of the Modul8 and Madmapper program.
In 2022 the "Golden Radio Show" project was born, together with his team in Montpellier. They animate the radio by inviting DJ artists accompanied by visuals every first Thursday of the month. In the meantime she continues to participate in projects where visual art is presented, leaving through her visuals a trail of colors and shades, wherever she goes.